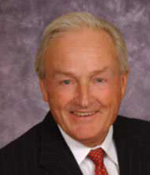 Fredrick D. Palmer (SME)
AIME Erskine Ramsay Medal* in 2004
For his outstanding work in the legal and political arenas, as an advisor, operator and counsel, championing the efforts to ensure that decisions regarding the future of fossil energy are based upon sound science and economics.
Born April 22, 1944, Fredrick D. Palmer received a Bachelor of Arts in 1966 from the University of Arizona, a Juris Doctorate with honors in 1969 and the Order of the Coif also in 1969.
Fredrick is currently the Executive Vice President, Legal and External Affairs and Secretary at Peabody Energy in St. Louis, MO. His responsibilities include the legal as well as state and federal government affairs functions. He has been with the company since February 2001.
His past positions include Of Counsel for Shook, Hardy & Bacon in Washington, D.C., General Manager and Chief Executive Officer of Western Fuels Association, Inc. from 1985-2000, and General Counsel of Western Fuels Association, Inc. from 1980-1985.
He is a member of the California and District of Columbia Bar Associations and formerly served as Chairman of the Environmental Information Council and as President of the Board of Directors of Greening Earth Society. He was also on the Board of Directors of the National Mining Association and chaired its Legal Committee and Climate Change Task Force.