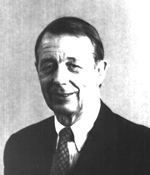 Evan Morgan Massey (SME)
AIME Erskine Ramsay Medal* in 1997
"For his significant achievements and innovation in leading his company and the coal industry in application of advanced technology and modern management techniques."
E. Morgan Massey is chairman of the Board of Supervisors of lnterAmerican Coal Holding NV, chief executive officer of Evan Energy Company (coal, oil and gas), chairman emeritus A.T. Massey Coal Company, Inc.; and partner Grace Properties (real estate). He has seNed as a director of Fluor Corporation, Owen & Minor, Inc., and Dominion Bank in Richmond, VA. Mr. Massey held numerous management and executive positions from 1950 to the present in A.T. Massey Coal Company, Inc. which has been a subsidiary of Fluor Corporation since 1987.
He received his BS in mechanical engineering from the University of Virginia and an MBA from the University of Richmond. He is active in university and community affiliations including the Massey Cancer Center at the Medical College of Virginia and the Massey Foundation of Richmond.