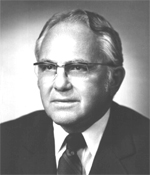 Edwin R. Phelps
AIME Erskine Ramsay Medal* in 1979
"Long aware of coming energy and environmental needs, he pioneered in promoting passage of workable surface mining legislation and innovative development of western coal reserves."
Edwin R. Phelps is Vice Chairman of the Peabody Coal Company. He received a BS degree in civil engineering from Kansas University in 1937 and a post-graduate degree in aeronautical engineering from the Massachusetts Institute of Technology in 1942.
He began his career with Peabody in 1960 as Chief Engineer and held positions of Vice President Engineering and Senior Vice PresidentOperations prior to being elected President and Chief Executive Officer in June, 1971. He was elected to his present position in January, 1978.
Following service as a pilot in the U.S. Navy during World War II, Mr. Phelps became Superintendent of construction for the Constant Construction Company in 1946. In 1948 he joined the Pittsburgh & Midway Coal Company as General Superintendent and from 1951 to 1959 served as Vice President Operations. He then served as President from 1959 to 1960.
Mr. Phelps was chosen to be a member of the American Team of Coal Experts sent by the State Department to Poland in 1957 to study methods and machinery used in coal production and was one of three top U.S. coal executives sent to India by the U.S. Government in 1960 to advise India in expanding its coal production program. Other of his professional activities include Director of the American Mining Congress, member of the Board of Directors of the National Coal Association and Chairman from 1974 to 1975, Director of the Bituminous Coal Operators' Association, and member of the U.S. National Committee of the World Energy Conference.
Mr. Phelps was the recipient of the AIME Howard N. Eavenson Award in 1972.