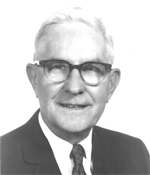 Charles E. Lawall
AIME Erskine Ramsay Medal* in 1970
"For a half century devoted to full and successful participation in the mining profession as educator, technical author, manager and gentleman."
Dr. Charles E. Lawall is a retired vice president of the Chesapeake and Ohio Railway Company.
Dr. Lawall began his career in 1914 as a testing engineer in the Pittsburgh Testing Laboratory following his graduation from Lehigh University with an E.M. Successively, he was a chemist with the New Jersey Zinc Company; with the Metallurgy Department, General Motors, Detroit; and mining engineer, and later research engineer, with Bethlehem Steel Company.
Dr. Lawall returned to his alma mater in 1921 as an instructor in the Geology Department and during that year, earned his M.S. degree. Later the same year he joined the faculty of West Virginia University School of Mines as an assistant professor. By 1938, he had risen to President, a position he held until 1945.
In 1945, Dr. Lawall returned to the business world as an engineer of coal properties for the Chesapeake and Ohio Railway Company. Later, he served as assistant vice president, assistant to the president, and vice president of the railway, the position he held when he retired in 1958.
A member of AIME since 1914, Dr. Lawall has been active as chairman of the Coal Division (1940); chairman of the Appalachian Section (1948); a vice president of the Institute (1951-1953); a vice president of the Society of Mining Engineers of AIME (1958-1960), and is a member of the AIME Legion of Honor Fifty-Year Member, Class of 1914.
Dr. Lawall's AIME awards include the Mineral Industry Education Award (1958); and the Percy W. Nicholls Award (1963) of the Fuels Division of the American Society of Mechanical Engineers and the Coal Division of the Society of Mining Engineers of AIME. He received the Bituminous Coal Research Award in 1957.
Dr. Lawall was born in Catasauqua, Pennsylvania. He holds honorary LLD. degrees from Lehigh University and Waynesburg College, as well as a D.Sc. from Morris Harvey College.