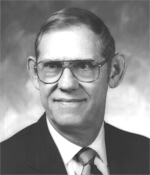 Bill S. Taylor
AIME Erskine Ramsay Medal* in 1988
"For recognition of his outstanding technical contributions to the development, implementation and successful operation of new coal preparation processes and process controls throughout the world."
Bill S. Taylor has worked thirty-five years in the coal industry, engineering and constructing coal preparation plants and coal-related material handling systems. He is currently Senior Vice President of Operations for Roberts & Schaefer Company.
Mr. Taylor joined Roberts & Shaefer in 1952 after earning a B.S. in Civil Engineering from the University of Kentucky. His first assignments were as Field Construction Engineer erecting coal preparation plants. In 1958 he moved to the Engineering Department where he designed systems for coal preparation plants. He became Head of the Mechanical and Piping Department in 1961, Head of the Field Preparation Department in 1964, and Director of Preparation in 1971. Mr. Taylor has contributed to the introduction of the heavy medium cyclone and water only cyclone systems to the United States coal industry and has been involved in the development of coal preparation plants both in the United States and abroad.
Mr. Taylor is presently serving on the Electric Power Research Institute's Technical Advisory Committee for the Coal Clean ing Test Facility at Homer City, Pennsylvania, and represents his Company in the American Mining Congress Association. He has been a member of SME since 1964.