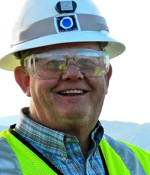 Timothy M. Dyhr (SME)
AIME Environmental Stewardship Distinguished Service Award in 2017
For his years of service to the mining industry by permitting mines, thinking outside the box and developing our young professionals.
Mr. Dyhr is the Vice President of Environment and External Relations for Nevada Copper Corp. He leads strategic environmental, technical, regulatory, community and external relations planning and implementation for Nevada Copper at the Pumpkin Hollow Project near Yerington, Nevada. Pumpkin Hollow is an advanced stage copper development project with 5.2 billion pounds of copper. In August 2015, The Bureau of Land Management issued the land patent transferring 10,140 acres of federal lands to the City of Yerington and subsequently to Nevada Copper to put the entire project on private lands that required no federal permits.
Mr. Dyhr has over 40 years of experience, 35 years of which are in mining. He started his career in mining in 1980 with a bentonite company in Wyoming and Montana, at the same time the federal government implemented Federal Land Policy Management Act (FLPMA).
In geologic-equivalent years, he is Mesozoic – in other words he is a professional 'dinosaur', but not yet extinct! He has focused on strategic management and leadership of people, projects and programs. He has been a functional manager for large and small mining-industrial companies, and directed interdisciplinary consultant teams.