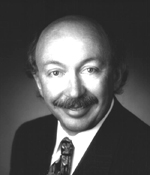 Robert T. Richins (SME TMS)
AIME Environmental Stewardship Distinguished Service Award in 1997
"For his contribution toward advancing both the regulatory and ecological issues affecting the mining industry and his dedication to environmental stewardship and conservation."
Robert T. "Rick" Richins is vice president of Environmental Services and Government Affairs, Coeur d'Alene Mines Corp., and president of RTR Resources Management, Inc. He is managing environmental permitting and EIS projects in Alaska and Idaho.
He holds a BS in environmental biology and an MS in environmental science and chemistry; and has a so completed post-graduate studies in public administration, marine biology and environmental law.
Mr. Richins has over 20 years of environmental consulting experience involving feasibility, water quality, reclamation, waste management and environmental impact studies.
Coeur d'Alene Mines Corporation won more than 17 major national and statewide environmental awards during his 10 years of involvement.
He is a member of SME and numerous state mining organizations.