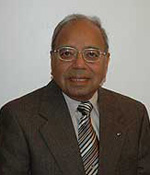 Raja V. Ramani (SME)
AIME Environmental Stewardship Distinguished Service Award in 1990
''For his several and diverse contributions to environmental conservation in surface and underground mine planning and design ."
Raja V. Ramani, a graduate of the Indian School of Mines, obtained a B.Sc. in Mining Engineering in 1962 from Ranchi University. Between 1962-66 he was employed by the mining company. Andrew Yule & Co. Since 1987. Dr. Ramani has been Head of the Department of Mineral Engineering at The Pennsylvania State University. He joined Penn State in 1966 as a graduate research assistant and obtained his M.S. in 1968 and Ph.D. 1n 1970 in Mining Engineering. He was appointed Assistant Professor in 1970 and promoted to Associate and Full Professor in 1974 and 1978, respectively. He has been chairman of the Mineral Engineering Management Section since 1974. Dr. Ramani has published more than 100 papers, contributed to 12 books, and has edited the proceedings of six symposia. His research is directed toward greater worker safety, reduced pollution and increased environmental conservation.
A member of SME since 1966, Dr. Ramani has served on more than 40 SME and AIME committees. He was the chairman of the Coal Division in 1987 and is currently a member of the SME Board of Directors. Dr. Ramani is also involved in a number of other professional activities and has served as a consultant to several agencies Inc luding the U.N. , U.S. Department of Labor, and U.S. Department of Energy on safety, productivity. training and management aspects. The recipient of several awards, Dr. Ramani was named a Distinguished Member of the SME in t989.