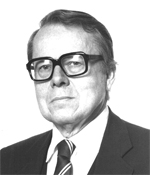 John S. Lagarias
AIME Environmental Stewardship Distinguished Service Award in 1984
In recognition of outstanding professional servlce dedicated to achieving an acceptable balance between environmental, social, technical and economic issues in resource development.
John S. Lagarias holds a B.S. degree in Physics from Rensselaer Polytechnic Institute and is a graduate of the Oak Ridge School of Reactor Technology. As Director, Environmental Quality, at Raymond Kaiser Engineers, Inc., Mr. Lagarias is responsible for environmental policy on corporate projects and services. Prior to joining Kaiser Engineers in 1971, Mr. Lagarias was Manager of Environmental Systems at TRW and President of Resources Research, Inc., a consulting subsidiary of TRW. Earlier he was Manager of Research and Development for American Instrument Co. and Manager of Metal Products Research, Koppers Co., Inc. Mr. Lagarias began his professional career in 1948 working on gas discharge phenomena for Westinghouse Electric Co. Research Department.
An Honorary. Member of the Air Pollution Control Association, Mr. Lagarias has served as chairman of numerous committees and has held various offices within that organization, including that of President. He is a Diplomate and former Trustee of the American Academy of Environmental Engineers, has been General Chairman of the Second Clean Air Congress in 1970 and Chairman of the First International Conference on Electrostatic Precipitation in 1981. A registered professional engineer in Maryland, Mr. Lagarias is the author of many papers on technical and environmental issues and holds six patents.