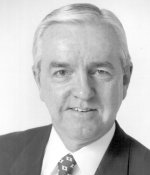 Gordon E. Forward (ISS)
AIME Environmental Stewardship Distinguished Service Award in 2002
In recognition of his significant contributions to the field of waste minimization through by-product synergy.
Gordon E. Forward was vice chairman of the Board of Texas Industries in Dallas until 2000. Before joining TIX, Dr. Forward was president and CEO of Chaparral Steel Co. He also worked for Lake Ontario Steel Company and Steel Co. of Canada.
Dr. Forward earned a doctorate in metallurgy from the Massachusetts Institute of Technology and a BS and an Honorary Doctor of Science from the University of British Columbia in Vancouver. He has been a member of the Iron and Steel Society for a number of years and was elected to .the National Academy of Engineering in 1996.
Dr. Forward is the recipient of numerous awards including the Howe Memorial Lecturer by the Iron and Steel Society in 1985 and the AIME Benjamin Fairless Award in 1988. His current directorships included Texas Industries, Nexfor of Canada, GREX Research, MetiSpan, Inc., Chairman-Applied Sustainability, LLC and Chairman-Business Council for Sustainable Development, Gulf of Mexico.