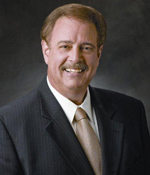 Dan DiMicco (AIST)
AIME Environmental Stewardship Distinguished Service Award in 2007
In recognition of his extraordinary leadership, vision and contributions to the steel industry in energy savings and sustainable development through technical innovation, environmental investment and industry foresight.
Mr. Daniel R. DiMicco is president and chief executive officer of Nucor Corp. and chairman of Nucor's board of directors. Mr. DiMicco joined Nucor Corp. in November 1982 as plant metallurgist and manager of quality control for Nucor Steel in Plymouth, Utah, and became melting and casting manager at the Utah division in January 1988. He was promoted as general manager of the Nucor-Yamato joint venture in Blytheville, Ark. in March 1991, and elected as vice president in January 1992. Afterward, in September 1999, he relocated to the corporate office at Charlotte, NC, as executive vice-president and was elected as president, CEO and a member of the board of directors of Nucor Corp. in September 2000. In June 2001, Mr. DiMicco became vice-chairman of the board. Since May 2006, he has assumed the additional role of chairman. Prior to joining Nucor Corp., Mr. DiMicco was with Republic Steel Corp. in Cleveland, Ohio, as research metallurgist and project leader from March 1975 to November 1982. He received a B.S. degree in Metallurgical Engineering and Material Science from Brown University in Providence, R.I. and an M.S. degree in Metallurgy and Material Science from the University of Pennsylvania in Philadelphia, Pa., in 1972 and 1975, respectively.
Mr. DiMicco has been the recipient of many honors and awards, the most recent ones being The AIST Steelmaker of the Year Award in May 2006 to recognize his notable leadership and contributions to the steel industry; The Billy Wallis Award from the Electric Metal Makers Guild in July 2006 to recognize his distinguished achievement and contribution to the electric metal making industry.