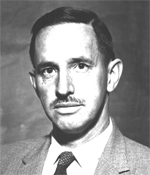 Clare A. Young
AIME Environmental Stewardship Distinguished Service Award in 1972
"In appreciation of a lifetime of steadfast dedication to environmental conservation and in recognition of the successful transformation of mining badlands into fertile farm lands."
Clare A. Young is the Head of the Agricultural Department, The International Nickel Company of Canada Ltd, Copper Cliffs, Ontario, Canada. He joined the company in 1937 and was named to his present position in 1957.
Throughout his career, Mr. Young has been recognized as an innovator and leader in his thinking. In the late 1930's and 1940's, his work in cooperation with the Ontario Department of Agriculture on grain and potato plots led local farmers to use improved plant varieties and better cultural practices. As a member of the S02 Committee on Forestry in Ontario, he has studied and helped define the effect of sulphur dioxide on forest species. Under his direction, The International Nickel Company undertook a reforestation program to restore the areas west of Copper Cliff, and he also guided a long period of experimentation on practical methods of establishing vegetation on mine tailings areas.
Mr. Young was graduated from the Ontario Agricultural College in 1935 with a degree in Field Husbandry. He has written numerous articles on gardening and has been a frequent speaker at Horticultural Society meetings.