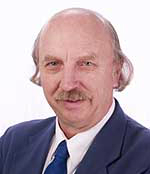 Charles Bucknam (SME)
AIME Environmental Stewardship Distinguished Service Award in 2012
In recognition of his fine leadership, meritorious service, and constant and steadfast participation in the area of environmental conservation, and for readily sharing his knowledge and experience for the benefit of others.
Charles Bucknam grew up in central and northern California where he studied chemistry at Modesto Junior College and California State College, Stanislaus, receiving a B.A. degree in 1972. He moved to Arizona in 1973, where he studied Analytical Chemistry, at Northern Arizona University, receiving a Master of Science degree in 1974, specializing in computer applications in the thesis, "The Thin Film Mercury Electrode in Differential Pulse Voltammetry."  The graduate research program was directed at development of remote sensing equipment for environmental monitoring.
Bucknam was trained as a project engineer in the pulp and paper tradition in northern Arizona.  He started working for Newmont in 1976 as a Chemist at the Magma Copper Company assay laboratory in San Manuel, Arizona, and advanced to shift supervisor.  Bucknam transferred as Chief Chemist to the Newmont Exploration Limited laboratory in Danbury, Connecticut, then to Carlin, Nevada, as Senior Metallurgist, Manager, Analytical Services, and Manager,  Developmental Services.  Bucknam rejoined the Newmont research and development group as Coordinator, Analytical Development at Newmont Metallurgical Services in Salt Lake City, Utah, and is currently Manager, Analytical Development at the Newmont Technical Facility in Englewood, Colorado.
Standards development has been an important part of Bucknam's career with Newmont, serving on ASTM Committees, E-16, E-01, D-28 and D-34, ISO Committee TC-183 and on the Acid Drainage Technology Initiative.  He was instrumental in development of the certified reference material NIST SRM-886 Refractory Gold Ore.  Reference materials under development with NIST include an activated carbon, SRM-331a Copper Mill Tailings and a CANMET high grade gold ore from the Deep Star mine.  Environmental research efforts have been directed at development of waste characterization methods, mercury removal from solution, water treatment methods and development of standardized cyanide analysis methods and on-line cyanide monitoring and control instrumentation.  Bucknam is leading the organization of the 7thInternational Conference of Acid Rock Drainage in conjunction with the 2006 SME annual meeting as the Environmental Division Program Chair.