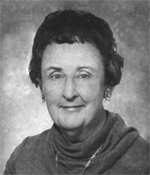 Beatrice E. Willard
AIME Environmental Stewardship Distinguished Service Award in 1979
"For her untiring efforts in bringing the interests of the government, mining industry and environmental community together in solving critical and important environmental problems, and for her clear and forth-right presentation of ecological principles to the American public."
Beatrice E. Willard is Professor of Environmental Science at the Colorado School of Mines. She received a BA degree in biological sciences in 1947 from Stanford University and MA and PhD degrees in botany (plant ecology) from the University of Colorado, in 1960 and 1963, respectively.
Dr. Willard came to the Colorado School of Mines from the U.S. President's Council on Environmental Quality, where she served as a member for over four years. For nearly eight years before going to Washington, D.C., she was Executive Director, Vice President, then President of Thorne Ecological Institute in Boulder, Colorado, where she designed and directed interdisciplinary research on more than twenty-five specific construction projects. Prior to that time, she held various teaching positions at high schools and colleges in California, Colorado, and Oregon.
She has underwritten a project to identify the economic costs and benefits of environmental programs in the minerals processing industry. Dr. Willard was awarded the Edward Hobbs Hillyard Award in 1978, the highest honor of the Rocky Mountain Center on Environment, the American Motors Award for Professional Conservation in 1970, the Department of the Army Outstanding Civilian Service Medal in 1973, and the Soil Conservation Society of America Honor Award in 1974.