Living an Inspiring Life ~ Ahead of Her Time
Image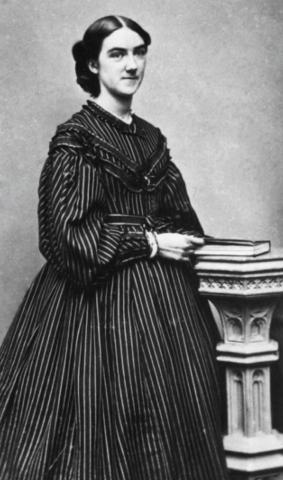 Image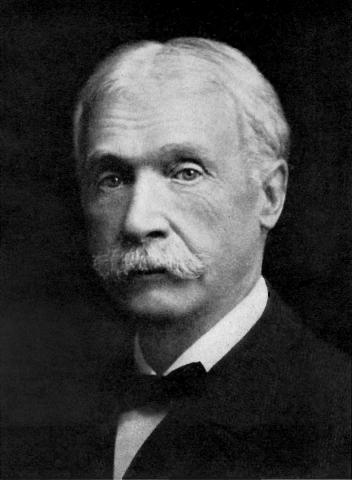 First Female Graduate of Vassar and MIT
AIME's first female member, Ellen Henrietta Swallow, was born in Dunstable, Massachusetts in 1842 and grew up there on the family farm. When she was a young woman, her family moved to Westford, MA, where Ellen attended the Westford Academy. She spent the next few years working as a teacher until she entered Vassar College in 1868. Upon graduating from Vassar in 1870, Swallow was accepted as MIT's first female student, where she continued her work in chemistry.
Ellen received a BS in Chemistry from MIT in 1873 and took a position as an assistant in the chemistry lab there after graduation.  In 1875, she married Robert Hallowell Richards (AIME Richards Award namesake), a Professor of Mining at MIT and, later, President of AIME in 1886. 
First Female Faculty at MIT
In 1876, MIT opened a new lab, in which Ellen became an instructor, becoming the first female faculty at MIT. She dedicated the lab to "sanitary chemistry," resulting in many scientific advancements, including the first scientific study of water pollution and the development of the nation's first water quality standards.  Her work in this field later came to be called ecology.
Image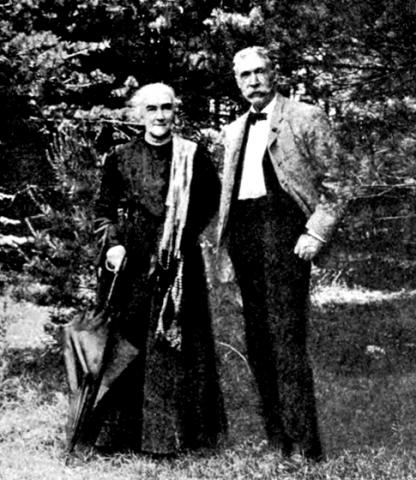 Fellow of the American Association for Advancement of Science
Richards also worked extensively with her husband, focusing on the chemistry of ore analysis and had a huge impact on extractive metallurgy.  She often accompanied her husband on field studies to mining sites.  In 1877, she published a paper on methods for determining nickel concentrations in pyrrhotite leading to her recognition as a Fellow of the American Association for Advancement of Science and kick-starting the nickel industry boom in Ontario, Canada. 
First Female Member of AIME 
In 1879, without fanfare, Ellen Henrietta Swallow Richards became the first woman elected to AIME membership, an unusual occurrence at the time.
Co-Founder of the American Association of University Women
In 1882, she co-founded the American Association of University Women.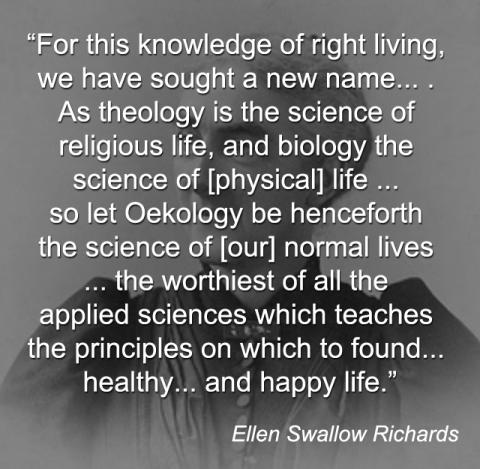 First President of the Home Economics Association
Another of Richards's great achievements was the initiation of the home economics movement, with the goal of bringing science into the home for the betterment of families.  She published 17 books on home economics and championed many public health issues, including school hygiene, school lunch programs, and nutrition programs. She led 3 exhibitions on home economics at world fairs and became the first President of the Home Economics Association, which was created in 1908.  In 1910, she received a PhD from Smith College.
Ellen Swallow Richards died on March 30, 1911, at the age of 68.  In 2014, TMS established the Ellen Swallow Richards Diversity Award.
Access TMS January 2014 JOM article here:
Honoring the First Female Member of AIME: Ellen Swallow Richards ~ 1879
Recognizes an individual who, in the remarkable pioneering spirit of Ellen Swallow Richards, has helped or inspired others to overcome personal, professional, educational, cultural, or institutional adversity to pursue a career in minerals, metals, and/or materials
The First TMS Summit on Creating and Sustaining Diversity in the Minerals, Metals, and Materials Professions
AIME gave $100K to establish the 2014 inaugural TMS-led and SME co-sponsored event; 2nd and 3rd iterations were held in 2016 and 2018