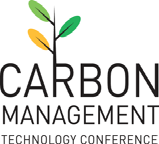 AIME's sister society, the American Institute of Chemical Engineers (AIChE) leads an engineering Founder Society group working on ways to jointly influence education and decision-making related to carbon emissions measurement, control, and reduction. The technical team of experts hosted a Gaps and Barriers workshop in Baltimore, MD October 21-22, 2010 and a GHG Measurement workshop in Scottsdale, AZ December 7-8, 2010.
In addition, the team developed a Carbon Management Technology Conference (CMTC), the first of which was held February 7-9, 2012 in Orlando, FL, USA. The 2012 event was organized by AIME's Member Society, SPE. AIChE hosted the 2013, 2015 and 2017 iterations.
For the latest of these collaborative efforts, including the 2019 conference details, visit http://fscarbonmanagement.org/.