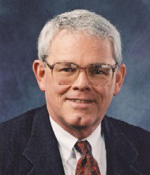 Thomas J. O'Neil (SME)
AIME William Lawrence Saunders Gold Medal* in 2003
For his outstanding contributions through strong leadership of Cleveland Cliffs, Inc.; extensive achievements in the ferrous and non-ferrous metals industries; advancement of academic excellence; and service to the industry through communications, public relations, and active participation in professional organizations.
Thomas J. O'Neil is president and chief operating officer of Cleveland-Cliffs Inc and, also, president of The Cleveland-Cliffs Iron Company and Cliffs Mining Company. Mr. O'Neil joined Cliffs in 1991 as senior vice president-technical with responsibility for Cliffs' research, engineering and technical support for business development. In 1994, he was named executive vice president – CCI operations and technology with responsibility for Northshore Mining Company in Minnesota and corporate-wide technical and related services.
Prior to joining Cliffs, Mr. O'Neil spent 10 years with Cyprus Minerals Company and its previous owner, Amoco Minerals Company, where he served in various capacities including vice president, engineering and development; vice president/general manager, Cyprus Sierrita Corporation, and vice president, South Pacific Operations, stationed in Sydney, Australia. Prior to joining Amoco, Mr. O'Neil was professor and head of the Department of Mining and Geological Engineering at The University of Arizona where he was a faculty member for 13 years.
Mr. O'Neil holds a bachelor of science degree in mining engineering from Lehigh University, a master's degree from The Pennsylvania State University, and Ph.D. from the University of Arizona. Mr. O'Neil is active in several professional societies including the Society for Mining, Metallurgy and Exploration, where he has been a Director and Vice President-Finance. He has been elected president of SME for 2003. He was elected to the National Academy of Engineering in February 1999. Director, and Chairman (1998, 2000 and 2002) of the American Iron Ore Association; and a Director of the National Mining Hall of Fame. Director of the Mineral Information Institute.