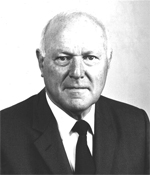 Sir Frank Espie (SME)
AIME William Lawrence Saunders Gold Medal* in 1983
For his outstanding contributions of leadership, dedication, and technical management to the mining industries of Australia and Papua New Guinea.
Sir Frank was graduated from the University of Adelaide with a degree in mining engineering. His professional career began in 1947 and spanned 32 years with the CRA Group of Companies.
A member of the Society of Mining Engineers of AIME, Sir Frank is active in many professional organizations. He was elected 1975 President of the Australasian Institute of Mining and Metallurgy and the 1978-1980 President of the Australian Mining Industry Council. He is a fellow of the Institution of Mining and Metallurgy (London).
Sir Frank was awarded the Order of the British Empire in 1971 and Knight Bachelor in the Queen's New Year Honours in 1979. Sir Frank holds directorships in a diversity of companies and is the Chairman of the National Petroleum Advisory Committee, a Federal Government body.