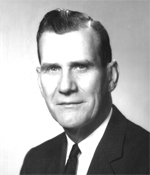 Robert J. Linney (SME)
AIME William Lawrence Saunders Gold Medal* in 1960
"For administrative leadership and aggressive determination in bringing into successful commercial operation mining and benefication of taconite iron ore."
Robert J. Linney, of Silver Bay, Minnesota, was born in Old Forge, Pa., in 1908 and attended Yale University.
His mining career began with the Chateaugay Ore and Iron Co. at Lyon Mountain, N. Y., where he served in various capacities from 1929 to 1939. He became General Manager of that mining and blast furnace activity in 1937.
After Republic Steel Corp. acquired these properties and the mines at Port Henry, N. Y., Mr. Linney was advanced through various executive positions to District Manager of the Port Henry operations in 1945. In 1950, after long experience in the processing of magnetite and a most successful management career, he was appointed Manager of Operations of Reserve Mining Co., which is owned jointly by Republic and Armco Steel Corp. In 1956, he was elected Vice-President in charge of operations and, in 1958, Executive Vice-President.
Mr. Linney is the author of numerous technical papers and holds patents used in mining, beneficiation, and agglomeration, including the Linney Magnetic Separator now used at Silver Bay. He became a Member of AIME in 1932.