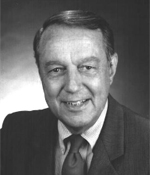 Richard J. Stoehr (SME)
AIME William Lawrence Saunders Gold Medal* in 1989
"For extraordinary leadership as an entrepreneur, engineer and manager in the U. S. uranium industry and his contributions to the revival of the gold mining industry."
Richard J. Stoehr currently is a mining consultant having retired after 30 years with Homestake Mining Company, where he served on the Board of Directors and as a Senior Vice President. He was also on the Executive Committee of the Board of Homestake. Mr. Stoehr received a degree in Mining Engineering from Iowa State University in 1949 and in 1984 he received a citation for Distinguished Achievement from the university. Mr. Stoehr now serves as a member of the Board of Directors of Hecla Mining Company, Galactic Resources Ltd. and Continual Gold Corp. He is also a consultant to Homestake Mining Company, Chevron Resources Company, and UNC, Inc. He is an active member of the Arbitration Association and the National Association of Security Dealers. Mr. Stoehr served as a participant in the hearings and studies of the U.S. Gold Commission appointed by President Reagan in 1981.
A member of the Society of Mining Engineers for 35 years, Mr. Stoehr is a member of the Mining and Metallurgical Society of America, World Trade Club, the Engineers Club, and the Commonwealth Club of San Francisco. Mr. Stoehr has authored various articles and technical papers on exploration, mining operations and metal marketing.