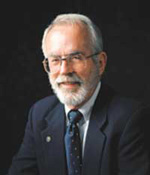 Paul C. Jones (SME)
AIME William Lawrence Saunders Gold Medal* in 2004
In recognition of his service to the public and the minerals industry in legislative and political as well as technical matters, exemplified by his role as Chair of the Summitville Task Force.
Paul C. Jones is currently Executive Vice President and Director of St Andrew Goldfields Ltd of Toronto, Ontario CANADA where he supervises the development of three gold mining operations in Ontario and Alaska. He is also a principal of Sovereign Gold Company, Ltd. of Golden, Colorado. St Andrew is a publicly held company engaged in exploration, development and mining of precious metals in the Timmins Mining Camp of Ontario and in Alaska. Sovereign is a privately held company engaged in mineral activities in North and South America. Jones also provides consulting and management service related to mineral activities through Sovereign Management Group Ltd. He has previously served in senior executive and director positions of several public and private firms engaged in mineral exploration and production in the Americas and Africa. Jones has been a member of the Society of Mining Engineers since 1958.
Mr. Jones currently serves as a Counselor of the Mining and Metallurgical Society of America where he was recently Chair of the Governmental Affairs Committee. He served as President of the Northwest Mining Association in 2000, Co-Chairman of NWM's Public Lands Committee in 1998-9, and a Trustee of the organization from 1987-1990 and 1997-2003. He served as Executive Director of the Minerals Exploration Coalition, an advocate for exploration and development of mineral resources on public lands, until that organization was merged into NWMA in 1998.
He is a past Chairman of the Board of Directors, a past member of the Executive Committee and a Director Emeritus of the Colorado Mining Association. He is currently a member of CM's Legislative Affairs and Hardrock Committees. Jones organized and served as the Chairman of the CMA Summitville Task Force for the duration of the committe's term from January 1993 through the late 199's. During this period he was quite active as an industry spokesman and leader in the Summitville situation in southwestern Colorado including actively participating in the negotiation and the passage of SB 93-247 which revised the Colorado Mined Land statutes regulating hard-rock mining in the state.
Jones served as the industry representative on the Colorado Governo's Summitville Advisory Committee from 1993 through 1996 and in numerous other roles associated with the public relations and governmental agency interaction with industry related to the Summitville Mine abandonment and subsequent cleanup. The Summitville Advisory Committee was as a group representing various local, state and federal agencies, the environmental coalition, general public and the mining industry. The Advisory Committee acted as a conduit of information on activities at Summitville to their respective constituencies and provided guidance to the Governo's Office on matters related to the reclamation and closure of the project.
In addition Jones is Vice Chairman and director of the Colorado Mining Association Educational Foundation, a private organization which has provided college level credit training in minerals exploration, mining and beneficiation to over 1,300 primary and secondary school teachers over the past 32 years.