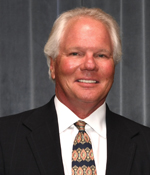 John D. Wiebmer (SME)
AIME William Lawrence Saunders Gold Medal* in 2018
In recognition of a distinguished career and outstanding professional accomplishments in advancing safe and productive mining systems.
John Wiebmer's 35-year global career with Caterpillar Inc. spanned marketing, sales, strategy, business development, and M&A, all of it focused on raising the company's profile in service and support to the mining industry. His proudest achievement was being a catalyst in bringing a higher level of safety awareness to mining equipment design and operational processes.
John has helped set SME's strategy at several points during his lifelong membership, chaired the Minerals Resource Management Committee and Mining and Exploration Division, served on the Board of Directors, and led Caterpillar's support of the SME Foundation. Prior to joining Caterpillar he was technical editor of MINING ENGINEERING magazine.
John has a minerals engineering degree from the University of Alaska (Fairbanks) with post-graduate study at Harvard Business School. In retirement on the Gulf Coast John is serving on community development boards, traveling the world, and catching a lot of fish.