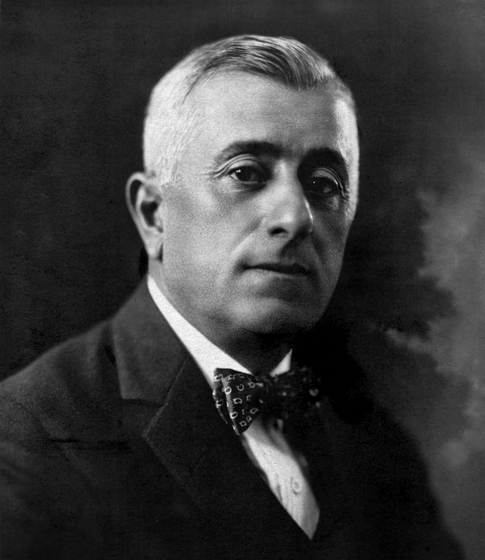 Herman C. Bellinger (SME)
AIME William Lawrence Saunders Gold Medal* in 1941
For distinguished service to the mining industry during the period of its modern development, as an engineer, manager, and executive officer of important mining companies. For his contribution to the arts of mining in the United States, Canada, Mexico, Australia, and South America, and particularly for the successful initiation and adoption of improved methods, practices, and procedures at the Chuquicamata copper mine in Chile.
Born in Germany, on April 23, 1867, and brought to the United States as a Child, he grew up in the mining atmosphere of the West. Tutored by two Freibergers, his father and Edward Keller, he began his life work in mining and metallurgy in 1886, starting as a chemist.
Mr. Bellinger went to Australia in 1909 and became General Manager of The Great Cober. Ltd., where he instituted many improvements in mining and metallurgy. In 1912, he served as President of the Australasian Institute of Mining and Metallurgy. He returned to the United States in 1914 and joined the Guggenheim Brothers of New York as a consulting Metallurgist, his work being principally in connection with the operations of the Chile Exploration Company for which he became General Manager. When the Anaconda Copper Mining Company acquired control of this company in 1923, he was retained in this position and mode Vice President of the Chile Copper Company. He was active in the affairs of the Chile-American association, being Chairman of its Board of Governors from 1933 through 1939. As such, he contributed greatly to the maintenance of cordial relations between these two countries. In 1935, he was awarded the Order of Merit in the Rank of Knight Commander by the President of Chile.
Mr. Bellinger has been a member of the Institute since 1891 -- fifty years -- having been advanced to the Legion of Honor on January 1, 1941. He was a director of the Institute from 1928 to 1931.
Known by his associates and many friends who admired and loved him for his generosity and loyalty to all, his inspiring capacity for leadership, his unusually clear judgment, his outstanding and evident strength of character, combined with highest sense of integrity.