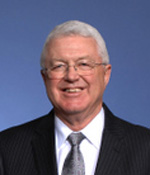 Harry Cougher (SME)
AIME William Lawrence Saunders Gold Medal* in 2011
For being the Grand Gentleman of the Silver Valley, and the miner we all wish we were.
Harry Cougher is a 41 year veteran of the mining business. Harry has held senior mining positions in all but one of the mines within the Silver Valley's Coeur d'Alene Mining District. He was responsible for directing the mining activities at The Bunker Hill Co (17 yrs.), Sunshine Mining Company (17 yrs.), and Coeur d'Alene Mines (6 yrs). Harry spent approximately one year out of the district overseeing mining operations for Pioneer Nuclear located in Amarillo Texas.
After his first year as a Mining Engineering student at the University Of Idaho, Harry spent the summer of 1964 working underground at the Bunker Hill Mine located in Kellogg, Idaho.
Following graduation from the University of Idaho's College of Mines with a degree in Mining Engineering (1966), Harry returned to the Bunker Hill Mine as an entry level Mining Engineer, packing a transit. Harry progressed from his initial surveying job to Mine Foreman, Chief Mining Engineer, and in 1975 the Bunker Mine Superintendent.
Harry's philosophy of mine management was clearly established during the early years of his career at Bunker Hill. During this period the mine management team substantially improved the working conditions underground while quadrupling productivity.
As a member of the Bunker Hill Mine Rescue team, Harry participated in reconnaissance missions during the historic Sunshine Mine Fire of 1972. He remained active in the rescue and recovery efforts until the last victims were recovered 13 days into the mission. It was for these efforts that Harry would later be awarded the "State of Idaho Certificate of Commendation" for service in May of 1972.
Harry became Bunker Hill's Manager of Mining in the CDA District in 1977, expanding his responsibly to the Crescent Mining operations as well as representing Bunker Hill's 70% interest in the Star Mine operated by Hecla.
Harry became Vice President Mining for Bunker Hill in 1980, further expanding his duties to include Bunker Hill properties in Washington, British Columbia, Nevada and Missouri.
Harry continued at Bunker Hill beyond the operations shut-down in August 1981 to facilitate the sale of many of the mining assets and support the new company, The Bunker Hill Limited Partnership.
Harry left Kellogg in April 1983 to become Vice President of Operations for Pioneer Nuclear an Amarillo, Texas based subsidiary of a major oil and gas company expanding into the silver mining business.
In July 1984, Harry returned to Kellogg to become the Sunshine Mine Manager for The Sunshine Mining Company. Harry held the following positions within the company: General Manager of Sunshine's Kellogg Division, Vice President/General Manager, and Senior Vice President-Mining and Chief Operating Officer. During his tenure at Sunshine Mining Company Harry witnessed a full range of highs and lows from ceased operations as a result of plummeting silver prices in 1986 to resurgence in productivity, producing a decades' high annual production of 6 million ounces of silver in 1996. Under Harry's leadership Sunshine mine interred its most productive period of operation since the early seventies.
Harry accepted a position in November 2001 with Coeur d'Alene Mines Company to manage their local mining properties in the Silver Valley; the Galena, Coeur and Caladay. Harry spent his first months at the Galena Mine simply "staying out of the way" of a productive team of handpicked miners and management personnel assembled four years prior to his arrival. Production continued to improve and the Galena Mine produced a record 5.3 million ounces of silver during 2002. It was here, after Coeur d'Alene Mines sold its Silver Valley Mining Operations in May, 2006, that Harry would finally close the door on his nearly 40-year experience in the Silver Valley mining business.
In January 2005, Harry moved to the Coeur d'Alene Mines headquarters in Coeur d'Alene, Idaho to assume the Senior Vice President of North American operations position. His expanded responsibilities included the Rochester Open pit operations in Nevada, the development and construction of the Kensington Gold Mine in Southeast Alaska and representing Coeur's interest in two mining operations in New South Wales, Australia.
Harry was a career long member of the American Institute of Mining Engineers (AIME, 1966) and SME, the Northwest Mining Association and The Idaho Mining Association. He served as a Trustee of the Northwest Mining Association during years 1986- 1988. Harry served on the Board of Directors of the Idaho Mining Association representing three different mining companies (The Bunker Hill Co 1980-1981, Sunshine Mining Co 1996-2000 and Coeur d'Alene Mines 2002-2006) and held the President's position twice (98-99, 03-05).
In 1989, Harry was recognized as a member of the "Ten Most Distinguished Alumni of the College of Mines" during the University of Idaho's centennial commencement exercises.
Harry retired from mining in 2007 and now enjoys his time in Boise, Idaho with his wife of 45 years, Linda. Harry has traded in his work in mining to working on his cabin, playing with his grandkids and occasionally traveling up north to refresh his memories of adventure, perseverance, and the tenacious spirit of the Silver Valley mining community that means so much to him.