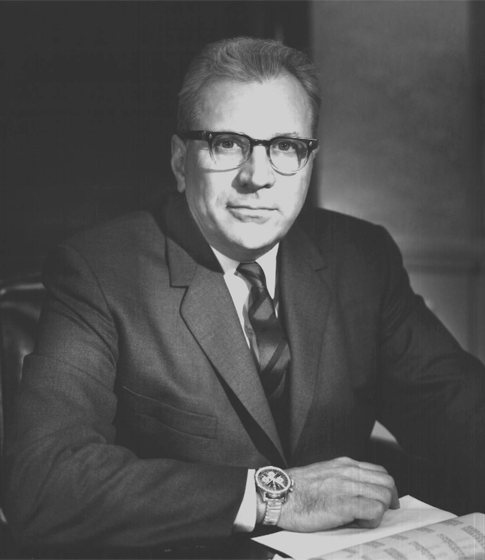 H. Myles Jacob
AIME William Lawrence Saunders Gold Medal* in 1974
"For a career of real dedication, to the United States and his exceptional leadership and inspiration toward solving the production and environmental problems to mutual benefit of the community, the country and his industry."
H. Myles Jacob is Chairman and Chief Executive Officer of Inspiration Consolidated Copper Company in Morristown, New Jersey. He received a B.C.S. degree from New York University and is a New York Certified Public Accountant. He started his business career with the certified public accounting firm of Pogson, Peloubet & Company in 1930. Six years later he joined Inspiration and served, successively, as Assistant Secretary and Treasurer, Secretary and Treasurer, and Vice President and Secretary. He has been a member of the Board of Directors of Inspiration since 1953. He was named Executive Vice President in 1958, President in 1960, and elected to his present position in 1973.
Under Mr. Jacob's leadership, Inspiration became the first of the Arizona mining companies to have a fully integrated operation. It was the first to electrolytically refine copper, a smelter was acquired in 1960, and, in 1969, when its continuous casting copper rod plant began operation, it was the first in the state to produce a semifinished product. The company is now completing construction of an air pollution control project which includes the. world's largest electric copper matte furnace and siphon-type converters; as well as a double absorption sulfuric acid plant.
Mr. Jacob assisted in founding the Copper Development Association of which he is a Director, and the International Copper Research Association.