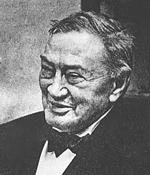 Fred Searls, Jr. (SME)
AIME William Lawrence Saunders Gold Medal* in 1946
"For outstanding ability and discernment in the practice of mining geology and in the appraisal and development of mineral deposits in many parts of the world; and for the effective participation in the formulation of broad national policy in the prosecution of the war, thus bringing added distinction to himself and to the mining profession."
Mr. Searls, native of Nevada City, California, was educated at the College of Mines of the University of California. After being graduated he completed a year of postgraduate work in geology under Dr. Andrew C. Lawson.
From 1910 to 1917 he was engaged in mining geology in the United States, Canada, South Africa, and China. He left China just in time to join the Army in 1917 as a Private. After doing service in the Argonne campaign, he emerged from the service as a 1st Lieutenant in the First Engineers.
In 1919 Mr. Searls was geologist in charge of exploration for the United States Smelting Refining and Mining Co. and upon the organization of the Newmont Mining Corporation in 1925, he became a vice-president of that corporation which position he still holds. He has been instrumental in the development of many important mining properties all over the world.
During World War II Mr. Searls served on the British Purchasing Commission, with the Ordnance Department, the War Shipping Administration, War Production Board and as assistant to James F. Byrnes with the Office of War Mobilization and Reconversion. Mr. Searls' aggressive policy in the mining field has greatly expanded his company's sphere of activity. His diverse interests in the field of national policy have brought him honor and distinction.