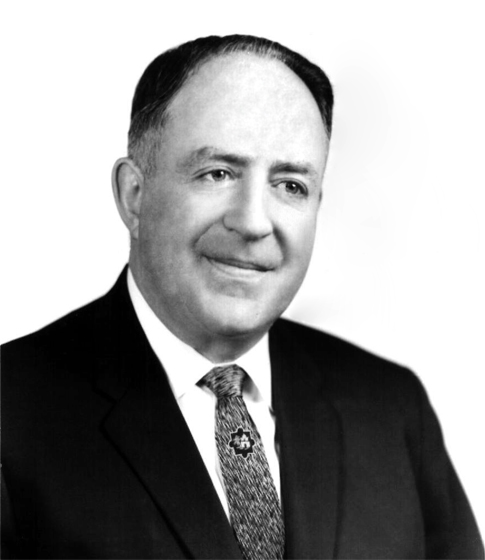 Edward Ignatius Renouard
AIME William Lawrence Saunders Gold Medal* in 1963
For major contributions to improved mining methods, conservation of resources and perpetuation of the Butte Mining District through imaginative planning, strong leadership and sound administration.
Edward Ignatius Renouard was born in Butte, Montana, in 1898. He became a miner in 1914, and worked as that and engineer helper while attending Montana School of Mines where he was awarded a mining engineering degree in 1920. The same school honored him in 1953 with a professional degree in recognition of his achievements in mining. From 1924 to 1930 he studied law through the LaSalle Extension University.
In 1920, Mr. Renouard became a shift boss, later a sampler and safety inspector at the Emma, Steward and Mountain Con Mines. Assistant foreman in 1924, he was promoted successively to foreman, assistant general superintendent, general superintendent and, finally, manager of mines in Butte in 1952. In 1959, he was elected Anaconda's vice president in charge of western operations, his current office. He is also vice-president of Anaconda Aluminum Co. and president and director of Butte Water Co., Columbia Amusement Co., Anaconda Building Materials Co., Kenwood Realty Co., Montana Hardware Co., and Smoke House Copper Mining Co.
Mr. Renouard was national program chairman for the American Mining Congress Convention in Denver in 1958 and is a valued member of many civic organizations.