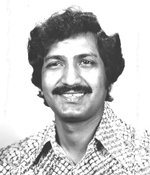 Shri Nath Singh
AIME Rossiter W. Raymond Memorial Award in 1976
For the paper "Mechanism of Alumina Buildup in Tundish Nozzles During Continuous Casting of Aluminum-Killed Steels"
Shri N. Singh is a senior research metallurgist at the United States Steel Research Laboratory in Monroeville, Pennsylvania. For many years Dr. Singh has also been associated with the University of Pittsburgh where he is adjunct assistant professor in the Department of Metallurgical and Materials Engineering.
Born in India, he received his Bachelor of Technology degree in metallurgical engineering from the Indian Institute of Technology in 1965. He then joined the Department of Metallurgy and Materials Science of the Massachusetts Institute of Technology where he received his M.S. degree in 1966 and his Sc.D. degree in 1968.
Dr. Singh's research work during his thesis years consisted of studying the alloy development, solidifaction, heat treatment and structure-property relationship in high-strength aluminum alloys. He developed a simplified theory of the solution kinetics for simple binary alloys. He also showed the correlation of the mechanical properties with amount of nonmetallic inclusions in aluminum alloys. At United States Steel Dr. Singh has been working on a variety of programs related to continuous casting of steel, heat transfer, solidification structure, segregation, development of mold fluxes and development of techniques for pouring aluminum-killed steels. In 1974 he received the Open Hearth Conference Award of the Iron and Steel Division of The Metallurgical Society of AIME.