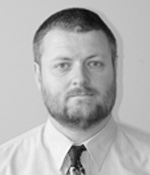 Nicholas J. Welham (TMS)
AIME Rossiter W. Raymond Memorial Award in 2001
For the paper, ''Mechanical Enhancement of the Carbothermic Formation of TiB2."
Nicholas J. Welham was born in Clapham near Bedford, England. He attended the department of mining and minerals engineering at the University of Leeds and was awarded an honors degree of Bachelor of Engineering in minerals engineering in 1986. In 1987, Dr. Welham was awarded the Billiton BV Scholarship to undertake a doctoral degree at the Royal School of Mines at the Imperial College in London.
Late in 1993, Dr. Welham moved to Perth, Australia to became the first overseas appointment to the A. J. Parker Cooperative Research Centre for Hydrometallurgy. He is presently working on a wide range of projects which include, environmentally friendly disposal of arsenic, self-assembled minerals and early life forms, oxygen recovery from minerals for extraterrestrial bases, processing of refractory copper minerals, formation of bulk quantities of nanostructured semiconductor powders and single step processing of ceramics and ceramic-metal composites.