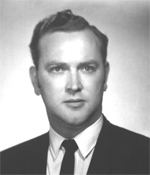 Ben A. Eaton
AIME Rossiter W. Raymond Memorial Award in 1971
For the paper "Fracture Gradient Prediction and Its Application In Oilfield Operations"
Ben A. Eaton formed Universal Drilling and Engineering Consultants, Inc., Houston, in April, 1970.
For three years prior to his forming his oil and gas industry consulting firm, ~Ir. Eaton had been with Continental Oil Company, Production Engineering Services, Houston, serving as a world-wide consultant in the areas of drilling, well completions and well stimulation. He was also a college engineering recruiter for the Company. Later, he served as a drilling foreman in California, Texas and Louisiana, and also designed treatments for wells in various areas, including offshore Dubai. In February, 1969, Conoco transferred Mr. Eaton to Lake Charles, Louisiana, to become CAGC's Division Supervising Drilling Engineer. He supervised the planning for drilling and completing of over 60 wells in offshore Louisiana, as well as all workover operations.
Mr. Eaton's previous experience as a consultant also includes a year with Gulf Oil Corporation, Houston Technical Services Center. He was also with Union Oil Company of California, Research Center, Brea, during which time a patent was issued on his method for selective plugging of water bearing formations during water injection.
Mr. Eaton is a graduate of Marietta College, Marietta, Ohio, with a B.S. in Petroleum Science. He holds a PhD in Petroleum Engineering from the University of Texas at Austin. The author or co-author of several papers, Mr. Eaton also co-authored the book, Gas Lift Theory and Practice, with Dr. Kermit E. Brown.
An active member of the Society of Petroleum Engineers of AIME, Mr. Eaton was recently appointed Chairman of SPE's Education and Accreditation Committee.
The Rossiter W. Raymond Memorial Award was established in 1945 to honor one of the Institute's founders who also served as President and Secretary. It consists of $250 and a certificate recognizing the best paper published by AIME and written by a member under 33 years of age. Papers are judged on the basis of technical content, proficient presentation, and fluency of style.