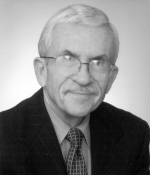 Terence P. McNulty (SME)
AIME Robert H. Richards Award* in 2003
To one of the outstanding metallurgical engineers of our generation, with an ability to get to the heart of complex metal and mineral extraction problems through the application of basic engineering principles that is matched by few and exceeded by none.
McNulty graduated from Stanford University with a B.S. in chemical Engineering. He earned an M.S. in metallurgical engineering from the Montana School of Mines and a D.Sc. from the Colorado School of Mines in extractive metallurgy.
McNulty worked for Anaconda from 1960-79 in process development and operations management. For the last six years, he was director of research and technical support. From 1980-83, he served as vice president-technical operations for Kerr-McGee Chemical. He then served as president and chief executive officer of Hazen Research for five years. At the end of 1988, McNulty and his wife, Carol, founded T. P. McNulty and Associates, a consulting firm serving the mineral and chemical industries. Currently, the company has 26 associates and has served several hundred of the world's mining companies.
McNulty authored or co-authored 39 publications dealing with process metallurgy, process control, energy conservation and technology development.