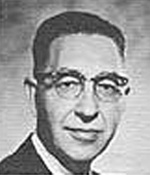 Stuart R. Zimmerley (SME)
AIME Robert H. Richards Award* in 1970
"Researcher, inventor and translator of basic sciences and applications thereof in mineral processing. His innovations range from crushing to biological leaching ... and all that between."
Stuart R. Zimmerley retired in 1965 as the director of the Kennecott Copper Corporation Research Center, having been head since its inception in 1952. While there, he pioneered research on copper dump leaching, and many of the modern concepts of pH controlled leaching and new techniques for copper precipitation were developed under his direction.
Born in Erie, Pennsylvania, and graduated from Pennsylvania State University with a B.S. in chemistry, Mr. Zimmerley was awarded a U.S. Bureau of Mines Research Fellowship at the University of Utah, where he received his M.S. His first job was with the Bureau evaluating and improving ore grinding processes. In 1929, he joined the Bunker-Hill Company, contributing to the development of the first commercial, high-purity, electronic zinc.
Mr. Zimmerley was appointed supervising metallurgist of ore dressing for the Bureau of Mines in 1940 and in 1942 was advanced to the new position of regional engineer to direct all western U.S. laboratories, pilot plants, field offices, mining, exploration and planning during World War II.
Kennecott Copper Corporation selected Mr. Zimmerley as director of the new Kennecott Research Center from its inception in 1952. He retired in 1965.
Mr. Zimmerley has served as chairman or co-chairman of many AIME committees over the past 25 years. He was chairman of the Rhenium Panel, National Academy of Science; represented Kennecott at the Industrial Research Institute; and has served in an advisory capacity to several government agencies. He is a co-inventor of many patents and author of more than 20 scientific and technical papers.