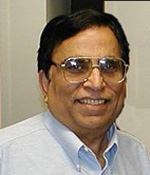 S. Komar Kawatra (SME)
AIME Robert H. Richards Award* in 2000
For outstanding contributions to the mineral industry through prolific innovative research in diverse areas ranging from comminution, concentration, instrumentation to waste treatment, resource recovery, and utilization.
S. Komar Kawatra is a Professor of Metallurgical Engineering at Michigan Technological University. His research and industrial experience includes work at:
- CANMET, University of Alberta, Canada;
- Mount Isa Mines, Australia;
- Julius Kruttschnitt Mineral Research Centre, Brisbane, Australia;
- The U.S. Department of Energy, Morgan Town., WV.
- Indian Atomic Energy Commission
His main interest is in teaching Mineral Processing at Michigan Technological University. He has made sure that during the past 15 years, every student in the Mineral Processing program at Michigan Tech has received a scholarship. His students are well placed in industry. He enjoys keeping in touch with his students and professors. In 1988, the House of Representatives of the State of Michigan, passed Resolution NO714 for recognizing Komar's Contribution to Higher Education in State of Michigan.
He is past chairperson of the Mineral Processing Division of the Society for Mining, Metallurgy, and Exploration.