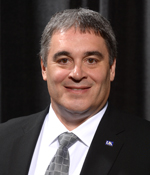 Rick Q. Honaker (SME)
AIME Robert H. Richards Award* in 2015
For substantial contributions to the advancement of mineral and coal processing research, technology, education and professional service.
Rick Honaker is the chair of and professor in the Mining Engineering Department at the University of Kentucky (UK). He received his B.S., M.S. and Ph.D. degrees in mining and minerals engineering from Virginia Tech. He served as an assistant and associate professor at Southern Illinois University-Carbondale from 1991 to 1999. In 1999, he received the MPD Outstanding Young Engineer award for his accomplishments in research.
Honaker joined UK as an associate professor in 2000 and was promoted to full professor in 2006. He was appointed to the position of department chair in 2007 and has led the program to unprecedented growth in graduation rates and research productivity.
The results of his research and development activities in coal and minerals processing have been reported in over 165 technical publications and reports. In recognition of his contributions, Honaker received the AIME Frank Aplan Award in 2008, the Coal & Energy Division Distinguished Service Award in 2009 and became a Distinguished Member SME in 2010.