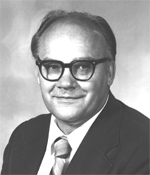 Richard R. Klimpel (SME)
AIME Robert H. Richards Award* in 1988
"For his scientific and engineering contributions to the understanding and betterment of the design and optimization of a wide range of mineral processing unit operations."
Richard R. Klimpel has been Research Scientist with the Dow Chemical Company since 1982. He received a B.S. in Chemistry and Mathematics in 1961 and an M.S. in Mathematics and Statistics in 1962. both from North Dakota State University. He began his career with Dow as a Process Engineer in 1964, alter receiving his Ph.D. in Materials Science from The Pennsylvania State University.
Dr Klimpel has served as Adjunct Professor and member of the Graduate Faculty in Mineral Processing at Penn State since 1978. The author of two books and over 100 published articles, Dr. Klimpel holds 30 U.S. and numerous foreign patents in the area of chemical modification of particle behavior in engineering processes.
Dr. Klimpel is a member of the Society of Mining Engineers. American Chemical Society, and the American Institute of Chemical Engineers. Currently Dr. Klimpel is a member of the SME Mineral Processing Division Executive Committee and will be Division Chairman in 1990. In addition to receiving the 1988 Richards Award, Dr. Klimpel received the SME Book Publishing Award in 1984, and has been named a 1988 SME Distinguished Member.