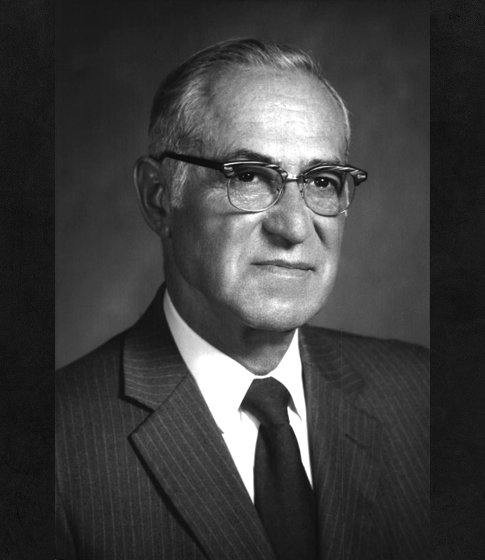 Norman L. Weiss (SME)
AIME Robert H. Richards Award* in 1960
"For his contributions to mineral engineering, and in particular the development and application of differential flotation and cyanidation to complex base and precious metal ores, outstanding work in mill design, his formulae for extraction and efficiency determinations, contributions to the profession as an author of technical papers, his qualities of leadership, integrity, and devotion, and his never-failing willingness to help and inspire his fellow man, both professionally and personally."
Norman L. Weiss was born in Boston, Mass., in 1902. He graduated from the Massachusetts Institute of Technology in 1923 with a B.S. degree in Metallurgical Engineering, and then spent one year in graduate study and teaching under Dean E. A. Holhrnok at Pennsylvania State College.
In 1924 Mr. Weiss was employed by the American Smelting and Refining Co. as Metallurgist at the El Paso Testing Laboratory, and in 1926 was transferred to the Santa Barbara Unit in Chihuahua, Mexico, where he was successively Metallurgist, Assistant Mill Superintendent, and Mill Superintendent. In 1946 and 1947 he worked as Metallurgical Engineer for the Dow Chemical Co., calling upon mills in western U.S.A. and Latin America.
He rejoined American Smelting and Refining Co. in 194 7 as Milling Engineer for the U. S. and foreign properties (except Mexico) with headquarters in Salt Lake City, his responsibilities being supervision of operation,. direction of research and development, and design of new milling facilities. Among the last are Ground Hog crushing plant, New Mexico; Leadville mill addition, Colorado; Deming mill, New Mexico; Van Stone mill, Washington; Silver Bell mill, Arizona; Chilete mill, Peru; Keystone mill, Colorado; Toquepala mill, Peru; and Mission mill, Arizona.
He was elected to membership in AIME in 1928, was Chairman of the Minerals Beneficiation Division and a Director of the Institute in 1955. In 1959 he was Chairman of the Utah Section of AIME, Chairman of the Rocky Mountain Minerals Conference Permanent Committee, and a Director of the Society of Mining Engineers of AIME. He has contributed technical papers to Institute and other publications.