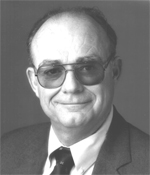 Laurence D. Hartzog (SME)
AIME Robert H. Richards Award* in 1992
"For the integration of his engineering and management talents, imagination and a broad operating mid design experience to successfully implement new technology at the plant level."
Laurence O. Hartzog is Vice President of Operations for Coeur d'Alene Mines Corporation. He received his B.S. in Metallurgical Engineering from New Mexico Institute of Mining and Technology and his M.S. from the University of Nevada, MacKay School of Mines. Mr. Hartzog was Vice President and General Manager of Coeur Rochester, Inc. from 1985 to 1987 when he accepted his current position. He served as Principal Engineering/Consulting Metallurgist with Bechtel Civil and Minerals Inc. in 1980-85. Prior to that time he was with Union Carbide Corporation. Kennecott Copper Corporation, Carlin Gold Mining Company, Delamar Silver Mine and Morrison-Knudsen Company. He holds two U.S. patents relating to the discovery, preparation and utilization of ammonium polythiomolybdate.
Mr Hartzog is a registered Professional Engineer in the states of California, Nevada and Idaho and is a Chartered Engineer in Great Britain. An active member of the Society for Mining, Metallurgy and Exploration, he currently serves as the chairman or the Minerals Processing Division. He is a Fellow of the Institution of Mining and Metallurgy, Great Britain.