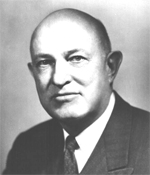 Harlowe Hardinge
AIME Robert H. Richards Award* in 1972
"In recognition of his contributions to the mineral industries and to the technology of grinding: as a leader in the development of autogenous grinding and of automatic controls for these operations; as an exemplar of the tradition of cooperation between mining companies and equipment manufacturers so vital to the industry's progress; as a prolific inventor and public servant."
Harlowe Hardinge retired in 1964 as President of the Hardinge Company, Inc., York, Pennsylvania.
Mr. Hardinge was graduated from Cornell University in 1916 with a degree in Mechanical Engineering. During World War I, he was a Captain in charge of radio training overseas for the Signal Corps, Air Force and Tank Corps. He became General Manager of the Hardinge Company, Inc. in 1922 and President of the company in 1939. The company, prior to selling its manufacturing operation to Koppers Company in 1965, was engaged in the fields of mineral beneficiation and water treatment. Mr. Hardinge is currently a Director of the National Bank and Trust Company of Central Pennsylvania and the Pennsylvania State Chamber of Commerce, a Trustee of York Junior College and a Member of the Cornell University Council. He is a past Member of the Administrative Board of Cornell University and a past President of the Manufacturers Association of York.
Recognizing many years ago that the depletion of high grade ores and industrial minerals, materials of marginal value would have to be handled in large quantities, he concentrated much time and effort to this field. Included in his over forty U.S. patents are techniques dealing with the processing of ores and minerals and the treatment of water, as well as control means to reduce operating costs affecting these areas.
Mr. Hardinge, who became an AIME Legion of Honor Fifty-Year Member in 1967, is truly a son of an AIME family. His father, Hal Williams Hardinge, was an illustrious engineer and long-time AIME member, and his mother, Mrs. Bertha Hardinge, was an early President of The Woman's Auxilliary of AIME.