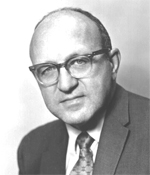 H. Rush Spedden
AIME Robert H. Richards Award* in 1971
"In recognition of his many contributions to the mineral processing profession in research, research administration and teaching."
H. Rush Spedden is Director of Research, Metal Mining Division, Kennecott Copper Corporation, Salt Lake City, and holds an additional appointment as Adjunct Professor of Metallurgy at the University of Utah.
Mr. Spedden is a graduate of the University of Washington, with a B.S. degree in Mining Engineering. He received a Master's Degree in Mineral Dressing from Montana School of Mines in 1940, and then joined Professor A. M. Gaudin's group at MIT, where he was successively a research assistant and an instructor until 1942. Following a period of U.S. government service in Bolivia and military service in Germany, he returned to MIT in 1946 as an Assistant Professor of Mineral Engineering. Mr. Spedden was the recipient of an honorary professional degree of Mineral Dressing Engineer from Montana School of Mines in 1964.
Leaving his academic position in 1952, he joined the Metals Research Laboratories of Union Carbide, Niagara Falls, where he was Manager of the Minerals and Chemical Engineering Group until he was assigned to Union Carbide's New York headquarters as Director of Research for its Ore Division in 1957. He transferred to his present position with Kennecott in 1964.
From the time that he was President of his AIME Student Chapter in 1938, he has been active in AIME affairs, both as contributor of technical papers and as a member of numerous committees. He served as Minerals Beneficiation Division Chairman in 1960, Chairman of the AIME Membership Committee (1968-69), Chairman of the Utah Section 1968, President of the Society of Mining Engineers of AIME 1970, and is currently a member of the AIME Board of Directors. He was General Chairman of the VII International Mineral Processing Congress in 1964 and since that time has served as the U.S. member of the International Scientific Committee, the guiding body for those Congresses.
Mr. Spedden's teaching and research have encompassed the field of the extraction of metals from ore deposits. His activities, as evidenced by numerous technical papers and patents, have led to improved production processes for several nonferrous metals.