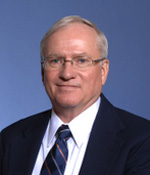 Gary Simmons (SME)
AIME Robert H. Richards Award* in 2011
For his leadership in the treatment of complex ores, advancement of flotation and hydrometallurgy fundamentals and passion for research.
Gary L. Simmons is currently president and owner of G. L. Simmons Consulting, LLC and provides metallurgical consulting services to a select number of clients on a worldwide basis. Mr. Simmons resides on the Shields River just north of Clyde Park, Montana, not far from his favorite outdoor activities.
Gary's professional career spans 39 years. He most recently worked for Newmont Mining Corporation where he held several management positions, the last of which was Senior Technical Director - Metallurgy and Technology, where he managed the Newmont Metallurgical Services Laboratory and a half-dozen process managers and process development engineers.
Previous to acquisition of Santa Fe Pacific Gold Corporation by Newmont Mining Corporation, Gary worked for Santa Fe as their Director of Metallurgy in Albuquerque, New Mexico. In this role, he hired and led a team of dedicated engineers in the development, engineering and start-up of pressure oxidation technology at the company owned Lone Tree and Twin Creek's mines and the N2TEC Flotation technology development and implementation at Lone Tree.
Prior to employment with Santa Fe Pacific Gold, Mr. Simmons held several operating and management positions for Meridian Minerals Corporation, Vanderbilt Gold Corporation, Mine and Mill Engineering, Noranda Mining Company, American Cyanamid Company and The New Jersey Zinc Company.
Simmons graduated from the Colorado School of Mines where he earned his B.S. degree in Extractive Metallurgy and minored in physics. He has been an active member of SME for 36 years where he has given numerous technical presentations, served on and organized technical sessions and has served on award nominating committees.
Gary has been active throughout his career in the advancement and development of process technologies related to the gold, silver and base metal industries.  He holds patents in his specialty fields of expertise; refractory Au and PGM flotation, high-temperature pressure oxidation of refractory sulfide and carbonaceous gold ores and pressure oxidation of precious and base metal ores/concentrates containing silver.