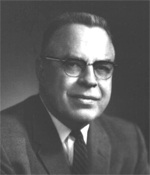 Edwin H. Crabtree, Jr. (SME)
AIME Robert H. Richards Award* in 1966
"For his unceasing and effective work and influence in devising and using economic methods for concentrating materials."
Edwin H. Crabtree, Jr. has been Director of the Colorado School of Mines Research Foundation since 1955. In this position he directs research work for mining companies throughout the world. Prior to joining the Foundation, he was Deputy Manager of the Grand Junction Operations Office of the Atomic Energy Commission. He was also associated with the Eagle-Picher Company as chief metallurgist and director of milling and was in charge of their metallurgical operations throughout the United States and Mexico.
Crabtree was elected to membership in AIME in 1936, and has served as chairman of the Minerals Beneficiation Division, member of the Board of the Arizona Section, ex officio member of the AIME Board, and chairman of numerous committees.
His listing in Who's Who in Engineering for 1959 attests to Crabtree's achievements and standing in the world of engineering.