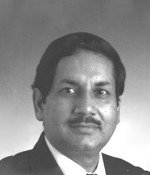 Brij M. Moudgil (SME)
AIME Robert H. Richards Award* in 1995
"For his significant contibutions and innovations to the theory and technology of phosphate beneficiation, selective flocculation of minerals and solid/liquid separation."
Brij M. Moudgil is Professor of Materials Science and Engineering and Director of the Mineral Resources Research Center at the University of Florida, Gainesville.
He has been awarded nine patents, and he has edited five books and published more than 80 technical papers. Dr. Moudgil's research interests include fine particle processing, applied interfacial phenomena, energy mineral processing, crystal growth, surface modification through surfactant and polymer adsorption, and solid-solid and solid-liquid separation.
Dr. Moudgil received the US Presidential Young Investigator Award in 1984 has has been cited in Marquis Who's Who in Frontier Science and Technology. He received MS and EngScD degrees from Columbia University.