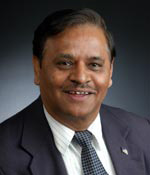 Bhupendra K. Parekh (SME)
AIME Robert H. Richards Award* in 2004
For his contributions to the science of treating and dewatering coal fines and the advancement of related process technologies.
BK Parekh is a senior research scientist with the University of Kentucky Center for Applied Energy Research (CAER). He received his M.S. and Ph.D. degrees in minerals processing from The Pennsylvania State University. He also received an M.S. in chemistry from the Vikram University in India. He is an adjunct associate professor in the Mining Engineering Department at UK and has directed several M.S. and Ph.D. thesis projects. His research interests include minerals beneficiation, secondary metal recovery and industrial water pollution control.
Parekh joined SME in 1969. He has served on various committees and is a Distinguished Member of SME. He is also a member of the American Filtration Society and received the Societ's Senior Scientist Award in 2000.
Parekh started his career in 1974 as a research scientist with Battelle Columbus Laboratories. In 1982, he joined Exxon Minerals as principal research scientist. He worked for Exxon until 1984, when he began his work at UK. He has spent more than 30 years in research and development in the coal, metal, and minerals industries.
He holds seven U.S. patents, three of which achieved commercial success. Parekh has published extensively in journals, books and encyclopedias. He is on the editorial boards of the International Journal of Mineral Processing, the Minerals and Metallurgical Processing journal, Coal Preparation, the Journal of the Polish Mineral Engineering Society and the Journal of Fuel Science and Technology.