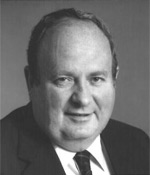 John K. Hammes (SME)
AIME Presidential Citation in 1989
In recognition of many years of extraordinary and dedicated service to AIME as Vice President-Finance and in numerous other important related capacities.
John K. Hammes is Vice President, Metals and Mining Dept., Citibank, N.A., New York. He joined Citibank in 1968 as a Mining Engineer and was named a Vice President in 1972. From 1965 to 1968, he was employed by the Metal Mining Division of Kennecott Copper Corp. Prior to that he worked for the U.S. Bureau of Mines under a fellowship program supporting research on the Lake Superior iron pellet industry. Mr. Hammes received his Bachelor's degree from the University of Missouri and his M.S. and Ph.D. in Mining Engineering from the University of Minnesota.
A member of the Society of Mining Engineers, Mr. Hammes is a Past Chairman of the New York Section of SME. He has served as AIME Vice President-Finance since 1977.