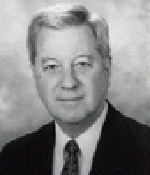 Alexander R. Scott (TMS)
AIME Presidential Citation in 2008
In recognition of thirty-seven years of dedicated service and measured counsel to AIME Presidents and Boards through his role as Executive Director of TMS.
Alexander R. Scott has served The Minerals, Metals & Materials Society as its Executive Director since 1973. He earned his bachelor's degree at the Virginia Military Institute and his master's degree in Personnel and Counseling Psychology at Rutgers University. In 1970 he joined the staff of the American Institute of Mining, Metallurgical and Petroleum Engineers (AIME) at its New York City headquarters.
Beginning in the position of Meetings Manager, he moved on to serve as Assistant Executive Director of the Society of Mining Engineers (SME) and then Assistant Executive Director of The Metallurgical Society (TMS) prior to becoming Executive Director of TMS in the fall of 1973.