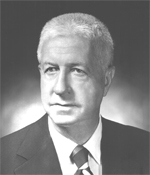 Truman H. Kuhn
AIME Mineral Industry Education Award in 1974
"For his exemplary devotion and loyalty as a teacher and educational administrator to the promotion of instruction in geological engineering and mining engineering."
Truman H. Kuhn is Vice President of Administrative Affairs at the Colorado School of Mines. He has served as Dean of the Graduate School and Dean of the Faculty. Dr. Kuhn received his undergraduate degree from the California Institute of Technology in 1930, and his doctorate in geology from the University of Arizona in 1940.
Dr. Kuhn has served as a Consultant and has done research resulting in numerous professional publications in mining geology. In 1970 he was selected to serve on a Consortium Committee for the College of Petroleum and Minerals in Dhahran, Saudi Arabia to cooperate in an effort to provide assistance in furthering the development of academic excellence of the college. He assumed the Chairmanship of the Committee in 1973. He is a Registered Professional Engineer in Colorado, and has been a member of the Colorado State Board of Registration for Professional Engineers, serving as Vice Chairman from 1969 to 1971.
He served as Chairman of the Colorado Section of AIME in 1958 and as Chairman of the Council of Education of AIME in 1963 to 1964. He is a Fellow of the Geological Society of America and a member of the Society of Economic Geologists and of the Mining and Metallurgical Society of America. In 1960 he was presented with the Medallion of Merit from the University of Arizona and in 1969 he received the Society of American Military Engineer's Tasker Medal.