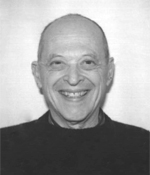 Thomas P. Meloy
AIME Mineral Industry Education Award in 1995
"To a gifted inspiring educator for his exceptional ability to educate through his outstanding research, brilliant lectures, illuminating defining papers, and innovative imaginative courses. A Renaissance Educator."
Thomas P. Meloy is Benedum Professor of Mineral Engineering and Director, Particle Analysis Center at West Virginia University. Prior to joining WVU in 1977, he was Head of EPA industrial research with laboratories in Research Triangle Park; ·Director of what is now the NSF Engineering Directorate; cofounder of Meloy Laboratories and VP of Research; Director of Westinghouse Air Brake's intra-corporate R&D; Senior Staff Scientist at Allis Chalmers, responsible for the development of new comminution machines and control systems and development of the Allis Chalmers Lunar and Deep Ocean mining programs.
Dr. Meloy has an AB in physics from Harvard and BS and PhD degrees from MIT in Mineral Processing. At MIT he was first an NSF Fellow and then an assistant professor and Ford Foundation Fellow.
Dr. Meloy has more than 500 publications; his major accomplishments include development of single particle fracture equation for brittle materials and the discovery and formulation of three powder laws. He has extensive engineering-related public service and in teaching developed the first course using computer games for the teaching of pollution, resource utilization and management. Currently he is developing a course in Engineering Ethics.