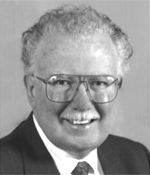 Richard C. Bradt
AIME Mineral Industry Education Award in 1994
"In recognition of his outstanding achievements as a teacher, mentor, engineer and researcher in the application of minerals in the refractories and metallurgical industries worldwide."
Dick Bradt received his BS in 1960 in metallurgy from the Massachusetts Institute of Technology and both his MSc and PhD from Rensselaer Polytechnic Institute in materials engineering. He spent 4 years in industry with Fansteel Metallurgical Corp. In 1967 he joined the Pennsylvania State University and in 1983 transferred to the University of Washington in Seattle. In 1989 he joined the Mackay School of Mines at the University of Nevada-Reno as professor of materials science and engineering. He has been a visiting professor in Japan and Brazil.
Dr. Bradt received his first educational/teaching award in 1973, the Wilson Undergraduate Teaching Award at Penn State. He was named the Outstanding Educator of the American Ceramic Society in 1984. He has also been honored with the R.M. Fulrath Award, the T.J. Planje Award and the Outstanding Technical Paper Award of UNITECR which he co-authored with Ms. Lana Wong. He received the Centennial Award of the Japanese Ceramic Society in 1991 and is an Honorary Member of MRS-Japan. He is a Distinguished Life Member of UNITECR and a member of the International Academy of Ceramics in Faenza, Italy.
Prof. Bradt is a Fellow of both ASM and the American Ceramic Society. He has served on numerous professional society committees and on the editorial boards of a half dozen archival journals. He is the primary editor of the Fracture Mechanics of Ceramics series.