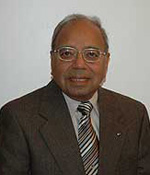 Raja V. Ramani (SME)
AIME Mineral Industry Education Award in 1999
"In recognition of his contributions as an educator and research scholar and his dedication to the betterment and enrichment of the mining profession that be has served so well."
Raja V. Ramani is the holder of the George H., Jr., and Anne B. Deike Chair in Mining Engineering and professor of mining and gee-environmental engineering at Penn State. After six years in the Indian coal industry, he joined Penn State and obtained his MS and PhD degrees in mining engineering. He is a 1962 graduate of the Indian School of Mines in mining engineering, a certified first class mine manager in India, and a registered professional engineer in PA. The author of over 200 research papers. He works on underground and surface mine planning and designing, particularly health, safety and productivity aspects. Dr. Ramani teaches undergraduate and graduate courses in these areas. He has directed over 100 graduate students from 25 countries, edited the proceedings of 15 national and international symposia, contributed to 25 books, and has developed and taught over 20 different continuing education programs for the mineral industry.
Dr. Ramani is active in many professional and technical societies, including SME where he was elected a Distinguished Member, Class of 1989, and was 1995 president of the Society. Dr. Ramani has served on mining industry-related expert panels for numerous US government agencies. He is a consultant on mineral industry issues for national and international agencies including the United Nations and the World Bank.
Dr. Ramani's numerous awards are include recognition from universities and professional societies worldwide, including SME and AIME.