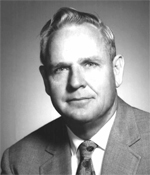 Murray F. Hawkins, Jr.
AIME Mineral Industry Education Award in 1976
"For his effective teaching and research, his outstanding contributions to educational publications, and his deep interest in his colleagues' and students' advancement in petroleum engineering."
Murray F. Hawkins is a professor and head of the petroleum engineering department at the Louisiana State University in Baton Rouge.
He received his B.S. degree in chemistry in 1938 and his M.S. degree in physics in 1940, both from the Louisiana State University. Service with the United States Navy during World War II included two years of sea duty and one year as director of the Secret Undersea Weapons School in Solomons, Maryland.
Professor Hawkins entered the petroleum industry in 1940 as an Rand D physicist with the Carter Oil Company in Tulsa, Oklahoma. He held the same position with the Ethyl Corporation in Baton Rouge, Louisiana before joining the faculty of the Louisiana State University in 1946. While at LSU, during summers and other periods, he has worked as roughneck, roustabout, engineer, researcher, instructor in field geology, consultant, and special lecturer in reservoir engineering. His publications include "Applied Petroleum Reservoir Engineering," co-authored by B. C. Craft, a text used widely in colleges and industry.
Professor Hawkins was honored by LSU in 1966 with the Halliburton Award for Teaching Excellence and in 1967 with the Alumni Distinguished Professor Award.
He joined AIME in 1948 and has served the Society of Petroleum Engineers of AIME in several capacities including membership on the board of directors in 1973-7 4 and on the education committee from 1961 to 1964. He is also a member of the Council of Education of AIME.